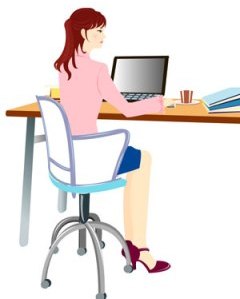 If you wouldn't mind, take a look at that picture and just ponder a little bit... why would I post such a thing? Because I GOT A JOB. That's why! *Insert a gigantic, cheesy grin right here.* And of course this image is supposed to represent me -- only I don't have red-ish brown hair and I don't always have such great posture. (I'll work on it.)
I had an interview last Friday and apparently all lights were green and all thumbs were up because they asked me to stay and work for the rest of the day! Today was my third day so I felt that enough time had passed that I could officially post it here. :)
I am a "Project Manager" for a small website development company, and let me tell you, there is quite a learning curve for this job. At the moment, I'm far more excited than daunted by this, but I'm sure there will be some intense moments.
After months of putting out constant effort without any return, I feel so relieved to be able to move forward with a little bit more direction. And I want to encourage those of you who are still looking for employment -- there actually IS hope. I had started to lose it.
So that's my little announcement. I'm sure it'll be quite the adventure!